Forskningen inden for patientkommunikation viser at der er evidens for en sammenhæng mellem en række indsatsområder og bestemte effekter. Forskningsresultaterne er illustreret nedenfor. Oversigten er lånt fra professor Arnstein Finset, Avdeling for medisinsk atferdsvitenskap, Oslo Universitet.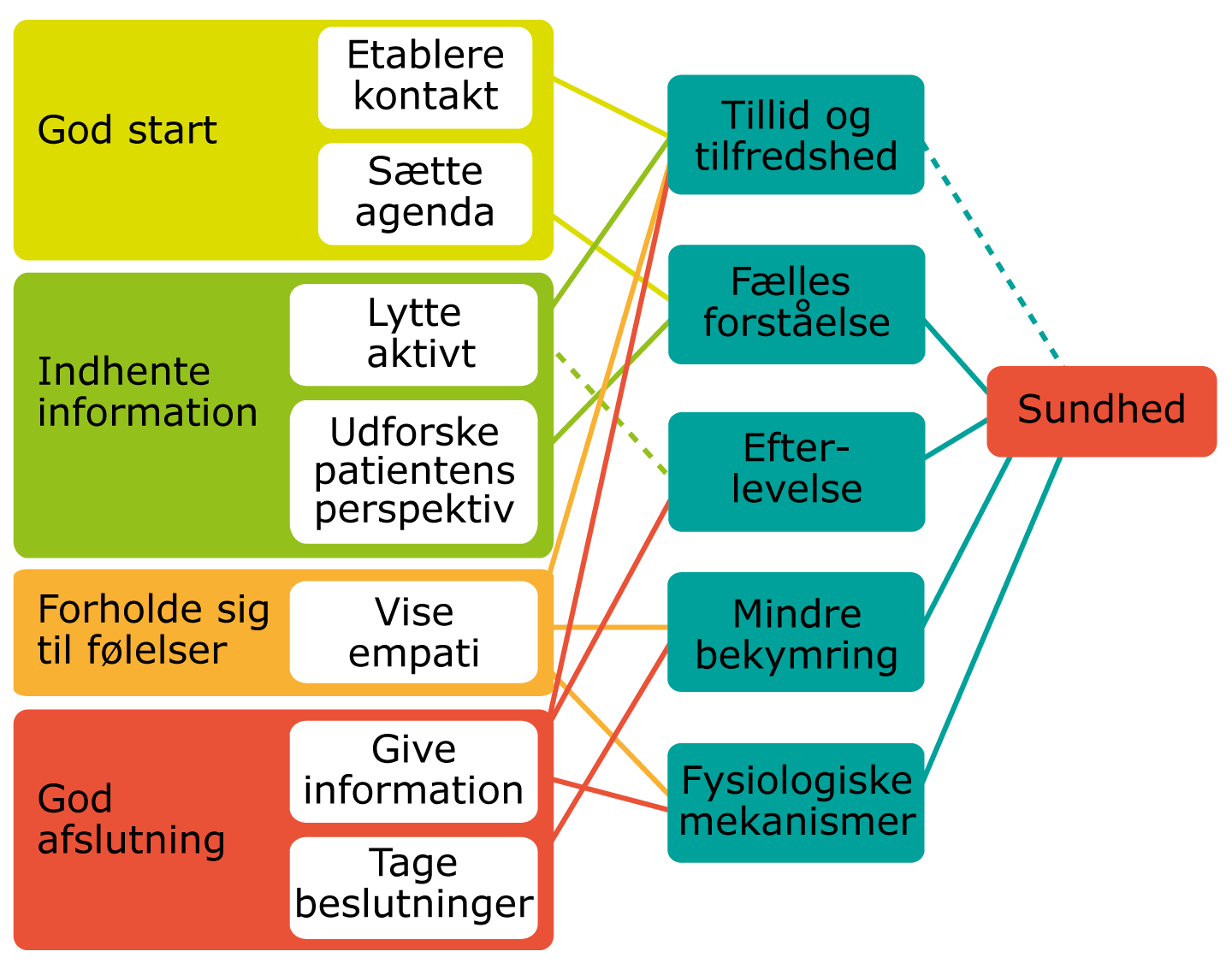 Litteraturhenvisninger
God start
The effect of physician solicitation approaches on ability to identify patient concerns. Journal of General Internal Medicine. 2005 Mar;20(3):267-70. Dyche & Swiderski
Indhente information
The impact of patient-centered care on outcomes. Journal of Family Practice. 2000 Sep;49(9):796-804. Stewart et al.
Patient participation in the medical specialist encounter: does physicians' patient-centred communication matter? Patient Education and Counseling. 2007 Mar;65(3):396-406. Epub 2006 Nov 7. Zandbelt et al.
Forholde sig til følelser
"Maybe I made up the whole thing": placebos and patients' experiences in a randomized controlled trial. Culture, Medicine and Psychiatry. 2009 Sep; 33 (3) :382-411. Kaptchuk et al.
Trust and Communication in a DoctorPatient Relationship: A Literature Review. Journal og Healthcare Communications, vol. 3, nr. 3:36. Chandra et al.
God afslutning
Patient preference for and reports of provider behavior: impact of symmetry on patient outcomes. Health Psychology. 2009 Nov;28(6):660-7. Cvengros et al.